[column width="2/3″ title="Shamanic Weather May 8, 2018″ title_type="single" animation="none" implicit="true"]
Get Crystal Clear
By Mara Clear Spring Cook
Along with the Believe Nothing energy of yesterday was the Get Crystal Clear message of Mercury Square Pluto. Those who got the best of that vibe easily surpassed the mind traps of Venus Square Neptune. Congratulate yourself on any clarity you attained!
Today Outer Self Sun in Sensually Grounding Taurus opposes I Make Things Bigger Jupiter in Sensuous Tease Scorpio. This can magnify what's so attractive and irresistible about you, or make you overstate your greatness. Plumb your depths to find your highest truth and get crystal clear as to what is TRUE about YOU.
CRYSTAL CLEAR MESSAGES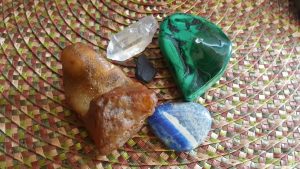 Last Friday I invited readers to select a stone that called to them from a small crystal mesa  I'd made. Then I took the crystal mesa with me on my Shamanic Retreat over the weekend.
I asked the stones to interact with the local nature spirits and star beings for messages for everyone.
Here is what they said:
OBSIDIAN:
See the emptiness as a gift instead of some sort of cosmic mistake. The Void opens all possibilities. It takes very little shadow to balance the light, but shadow is required to discern what light will serve you.
No matter what has happened, you can always start over. There is always a way out.
SODALITE:
Let your whimsy drive new vision, song, destinations! You may find yourself to be a voice for beings not from this Earth but of highest good, and in the form of creative expression. Or your creative center is working overtime regardless of the source.
A part of you is ready to travel, either in real time or in deep shamanic journey.
A precious caring for the Earth is unfolding. You can find a way to be involved.
MALACHITE
The time is now to recognize and embrace all your magnificence. There is more to your current situation than meets the eye, and tremendous power flows beneath the surface. Cleanse yourself of the obsolete, outdated, and soul-deadening patterns of the past.
Be crystal clear on what belongs in your heart, then own it. You deserve it!
CARNELIAN:
Whose grave do you visit? Which ancestor whispers in your ear? Connect with your blood, your lineage, and ask for healing. It is time to be a vital you. Find the Pain Keeper in your heritage (use shamanic journey) and heal the wounding at the source.
Let go of any ancestral wounds and heal your body and your life in the now. Then share the healing. Strength is meant to be shared.
HERKIMER DIAMOND:
Vast inter-dimensional doorways appear as bright sparks of light. There is magic for you, magical ways, magical messages, magical beings, readily available to open pathways to higher vibration on your behalf. Activate it by meditating with this stone.
Ask to be taken through the door. Your star being will accompany you and bring on the magic.
QUARTZ POINT:
Here the Light points to the Shadow and together they reveal what you have healed or are ready to enlighten in your life. Your Soul Purpose seems eclipsed by Earthly roles and personal needs. But, that's an illusion. They merge!
The current Sun/Jupiter polarity draws out the core truth about your personal obstacles to satisfactory expression. Let the Quartz Point cut through to the center and release your ultimate truth.
CRYSTAL CLEAR BUT NOT
If the message for your stone doesn't match, please don't worry about it. You've changed, or there is a different message for you that was overwritten by the one for the general masses. Trust yourself!
This is a great day for constructive contemplation.
Make this a day to ROAR about!
Namaste,
Mara
I would love to see you! Schedule your session! 
Want the Shamanic Weather in your inbox? Subscribe here.
Art: Unknown Creator
#shamanicweather #firststepshamanictraining
**Pacific time PDT (UTC-8). Use this Link.
Shamanic Weather Disclaimer
This is a general interpretation not meant to address individual natal charts, soul journeys or destiny paths. Take what works for you and leave the rest behind! Love!
[/column]
[column width="1/3″ last="true" title="EVENTS-HEALING-TRAINING" title_type="single" animation="none" implicit="true"]
Shamanic Sound Journey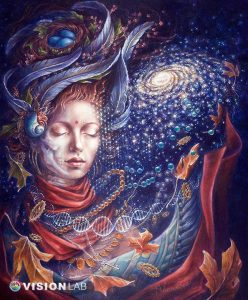 Go to Crystal Waters 
6/1/18 – Limited Seating
Air Magic!
The Shamanic Goddess Circle
Friday, May 11 at 7 pm
More info HERE!
SHAMANIC TRAINING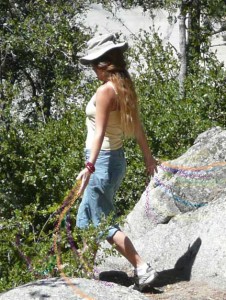 Summer/Fall First Step Shamanic Training starts in June. Personal Shamanic Training can begin at anytime!
Get on the LIST HERE
SHAMANIC HEALING
Shamanism helps you heal body, mind, heart and soul. Recommended for the soul ready for deep change!
Shamanic Healing ~ Soul Retrieval ~ Counseling
You can schedule your appointment right HERE!
CONTACT:
Mara@MaraClearSpring.com ~ 619-972-2469
EMAIL ANNOUNCEMENTS
Get Mara's Articles, Events and Training info and the Shamanic Weather in your Inbox HERE
More info HERE
[/column]