Shamanic Healing Sessions
All sessions are available both In Person* or distance by phone, Zoom, FBMessenger or Skype.
No matter how we meet, the light of compassion surrounds us in a safe container.
*In Person we meet outdoors in my Shamanic Oasis covered patio. Dress for the weather – if conditions prohibit being outdoors we convert to Zoom or phone.
We observe Covid-19 protocols: Wear a mask when we are standing or less than 6′ apart, and bring a cover we throw over your chair.
Begin with your First Session
First Session is where we meet and our spiritual allies come into agreement to help you. So much happens during this first meeting, including Soul Retrieval.
When your original energy is damaged or lost you can literally experience a "hole in your soul" leading to illness, addiction, and repeated painful cycles. You feel distant or blocked from your soul purpose.
Continue with Shamanic Healing Sessions
Additional work in First Session or in follow-up appointments can include energy healing and counseling for heart, body, mind and soul through multiple practices such as sound healing, chakra balancing, past life healing, power animals, oracle cards, space clearing, and more.
AFFILIATED HEALERS
A new offering is this easy connection to other healers who have graduated from my training programs. Each has their own additional modalities and expertise from which you may benefit!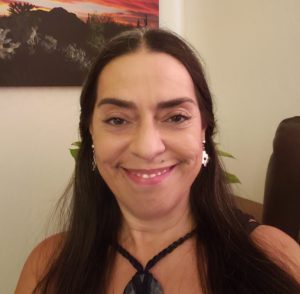 Barbara Pike, Shamanic Healer
619-723-5285
Website Pending:  http://www.bhearshamanichealing.com/
Shamanic Energy Medicine Session – 1.5 to 2 hours
This type of work can be used to support any area in life where one feels challenged, heavy, stuck, or unable to bring about change to a situation.  It enables you to get to the core of an issue and receive support to create a new mythic map or story.  You become empowered and find a new perspective on how you see the situation.  Barbara utilizes the following shamanic healing methods, as needed, in a Shamanic Energy Healing Session:
Illumination Process
Extractions of Intrusive Energies
Soul Retrieval
Shamanic Journey work
Divination – Stone and Oracle Card Reading
Animal Communication Session
Animal communication provides a voice for your pet. Using shamanic tools and practices Barbara connects on all levels with your pet in order to learn what they are feeling and thinking in regards to a specific issue.  She may, if needed, incorporate any of a number of healing techniques that will support healing and change to take place. Animals will often reflect their people as if looking into a mirror. At times a pet will actually lead their owner to Barbara in order to initiate personal healing for the owner themselves as well as their pet.  By hearing and understanding our pets we begin to see those areas in our lives where there is a need for refining and can then take a course of action that supports that. In these instances both animal and human benefit!
Barbara is also able to connect with an animal that has crossed over.  This can facilitate healing and comfort during the grieving process.
Other Services
Administering of Death Rites and Mediumship
Rite of the Womb
Installation of the Bands of Power

Already know what you want?  Book a session now!