Shamanic Weather May 9, 2018
Anticipation
By Mara Clear Spring Cook
Yup, today we get to hurry up and wait, dance on the edge, positively marinate in anticipation.
THAT SOUNDS FRUSTRATING
Mm hm, yes, let's wait and see.
HA HA
Well, I wanted to call it a take a break day, but there's too much tension. Anticipation keeps us restless.
TELL ME ABOUT IT!
Change is on the way, but not here yet. Fire element dominates, but there's nothing to burn right now. We're all waiting for the next song to play and hoping we like it (sound of foot tapping).
THAT'S EXACTLY HOW I FEEL
It's sort of like being hungry and staring at a fridge full of food we don't want to eat.
I DO THAT, TOO.
It takes some effort, but do your best to repurpose that irritating energy toward a productive end. If you can't concentrate on a more complicated project, then clean out the trunk of the car, cook up a storm in the kitchen, see how many errands you can run in an hour.
The "New" things you'd like to start may not get going today. Get the background work done. The devil is in the details, right? You'll enjoy the energy shift into the weekend! Now there's something to anticipate!
Make this a day to ROAR about!
Namaste,
Mara
I would love to see you! Schedule your session!
Want the Shamanic Weather in your inbox? Subscribe here
Art: Moon Goddess by GloriaGypsy
#shamanicweather #firststepshamanictraining
**Pacific time PDT (UTC-8). Use this Link
Shamanic Weather Disclaimer
This is a general interpretation not meant to address individual natal charts, soul journeys or destiny paths. Take what works for you and leave the rest behind! Love!
The Shamanic Goddess Circle
ELEMENTAL HEALING: AIR MAGIC!
Friday, May 11 at 7 pm
More info HERE!
SHAMANIC TRAINING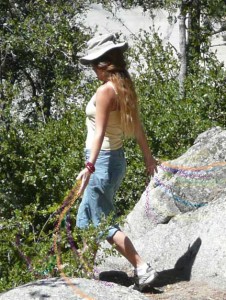 Summer/Fall First Step Shamanic Training starts in June. Personal Shamanic Training can begin at anytime!
Get on the LIST HERE
SHAMANIC HEALING
Shamanism helps you heal body, mind, heart and soul. Recommended for the soul ready for deep change!
Shamanic Healing ~ Soul Retrieval ~ Counseling
You can schedule your appointment right HERE!
CONTACT:
Mara@MaraClearSpring.com ~ 619-972-2469
EMAIL ANNOUNCEMENTS
Get Mara's Articles, Events and Training info and the Shamanic Weather in your Inbox HERE
More info HERE