Wild Love Shamanic Weather
Thursday, April 22, Love Goddess Venus purrs with Wild Love in a powerful alignment with Expect The Unexpected planet of rebellion, Uranus. They connect in the This Feels Good sign of the Earthy Bull, Taurus. Under this influence you'll want to explore and identify your heart's desires, such as:
Attract favorite people

Make brilliant money moves

Acquire treasures you thought were out of reach
AND you could step into the shadows of such towering gifts:
Oops I Thought I Loved That overspending

Hot romance that quickly fizzles

Did I really eat THAT? (yeah, you did…)
But isn't adventure worth it? Normally Venus in her sign of rulership, Taurus, is more, ah, practical, less impulsive. But that Uranian influence tweaks her pleasure seeking into high gear. So, you'll want to live it up!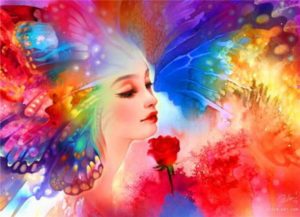 Wild Love Just For You
Think about how you'd like to use this Wild Love energy. The Inner You Moon in Watch Me Roar Leo certainly adds to the hedonistic quality of this alignment (as well as the vulnerability!), so consider setting some time aside to consider what would fill you with Wild Love! 
Make this a life to Roar (or Purr) about!
Namaste ~ Mara
#maraclearspring #shamanichealing #soulretrieval 
Reiki II on May 10, 2021 Go HERE, click on Classes.
Incredible art by Iribel on Deviantart
Shamanic Weather Disclaimer
This is a general interpretation not meant to address individual natal charts, soul journeys or destiny paths. Take what works for you and leave the rest behind! Love!
Ephemeris Times are PST (GMT-0800). Go HERE to convert to your time