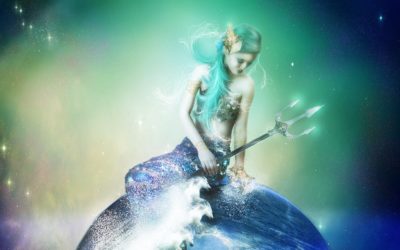 Expect Neptune Retrograde 2020 to lure you into the "There Is No Spoon" Piscean pools of timeless contemplation, or addiction, or ecstasy. Messenger Mercury continues to swim through retrograde waters in "Free Hugs" Cancer, a sister sign with Pisces, and the many layers of your emotions remain accessible separately or together. The Water Element surges high right now! How deep do you want to go?
OH I'M ALREADY QUITE DEEP, THANK YOU
Then you'll appreciate the breath of fresh air from Love Goddess Venus as she slows down to end her Retrograde through "Just One More Question" Gemini just before midnight PDT on June 24.
IS THAT GOOD?
Well, having both personal planets Mercury and Venus in retrograde keeps your eyes turned inward. We might be a little sick of ourselves. Just sayin'.
But there's more…
read more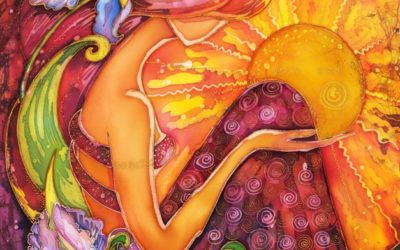 The Solstice New Moon Eclipse 2020 thrusts us through the second portal of a three-eclipse transformation tunnel. Congratulate yourself on making it this far! You know how to swim through tidal waves of change.
I DON'T KNOW ABOUT THAT
We change seasons and signs at 2:43 pm PDT when the Outer You Sun crosses over from "There's Just So Much To Explore" Gemini into "Let's Explore Our Hearts" Cancer, the same sign Messenger Mercury now retrogrades through. That's our Summer Solstice here in the Northern Hemisphere, and Winter in the Southern Hemisphere.
I'M WITH YOU SO FAR
Then, nine hours later, we experience the Solstice New Moon Eclipse in Cancer. Expect an exponential release of the heart! Holding back is painful. Let your already raw feelings move through you. May your joy explode, your tears flow, or whatever is true for you. A New Moon in Cancer is an optimal time to clear and reset your heart. And with Venus in her last days of retrograde in Gemini, we have even more focus on what we love to have in our lives. 
read more
Messenger Mercury takes us through a heart healing review for the next three weeks. Tonight, at 11:58 pm PDT, the fleet-footed, Loki-like inner influencer stations (stops to turn) Retrograde in the "Hugs Are The Best Medicine" sign of Cancer.
HOW CAN MERCURY RETROGRADE BE HEART HEALING?
Revisiting the injury and the feelings and thoughts that erupted from it helps us sort through and release stuck words and actions. We learn from the experience. And there's more…
TELL ME!
With Love Goddess Venus completing her retrograde in just a week (See Retrograde Venus Reborn https://maraclearspring.com/retrograde-venus-reborn/) we double down on resolving matters of the heart at a deeply personal level. She's been in deep inquiry during her extended stay in "Let Me Ask You This" Gemini, further plowing the fields to prepare us for new growth and richer experiences in all matters related to love, sensuality, finances and the sweet things of life.
MY HEART HAS BEEN SO HEAVY
I hear that so much lately. Pandemic and world consciousness raising wearies our compassion circuits. Continues on website…
read more
The Shamanic Weather
Get my update on the current energies, and what's coming. You can also opt to receive event and class information and other articles I periodically send out.