Your grounded heart is the key to receiving, translating, and integrating the multiple messages and energies of the first New Moon of 2021 in the sign of the Mysterious Goat Fish, Capricorn.
I THOUGHT CAPRICORN WAS A GOAT
And a fish! With the body of a goat and tail of a fish, the Capricorn sea goat represents a synthesis of spirituality and earthiness, stubbornness and higher purpose. The grounded heart becomes the balance point as the Moon and Sun meet (New Moon) and a new cycle of creation begins.
I WOULD LOVE TO FEEL BALANCED
It's been hard to know which way is up lately when we keep getting knocked sideways. But if you slow down, sink roots in the ground, put your hand over your heart, breathe and listen, you can hear the messages and begin to track your own feelings.
UGH! I FEEL CRAZY
Now Feel This Venus just entered Capricorn, so you are trying to update your personal values and desires in the middle of a maelstrom of political and pandemic pandemonium. Of course you feel crazy.
And – Venus draws upon healed or healing wounds in a challenge (Square) with Wounded Healer Chiron  who reminds her to put herself first. It may feel harsh, but everything is clearer when you reset your priorities for self care.
SELF-CARE SEEMS SELFISH
I hope our essential medical workers, firefighters, grocery clerks and other people we really depend upon are able to be "selfish" and stay safe and well! Being of service feels amazing, AND we all need time to rest and restore.
YOU HAVE A POINT
Anyway, I've Got A Message Mercury just entered Brave New World Aquarius, supercharging our thoughts, ideas and insights. He's challenging Mad Genius Uranus, which results in overstimulating our minds and feeding false logic. Yes, expect the unexpected, but don't over complicate it all.
When your thoughts run away from you STOP. You will make yourself crazy. Breathe back into your Grounded Heart and ask your wonderful mind to forget everything. Let only what's real gradually reveal itself, like the sun penetrating the storm clouds.
WHAT I'D GIVE TO SILENCE MY BRAIN…
So that's where the discipline and focus of the Capricorn energy is helpful. My Guides suggested reciting the Green Tara Mantra:
Om Tara Tutare Ture Soha
Recite while focusing the breath into the heart on the inhale, and down to the ground on the exhale. See beautiful, divine love calming the mind that makes us miserable. Sink into your heart where you can find sanity again. Then send that love down into the Earth. 
If enough of us do that, well, miracles can happen!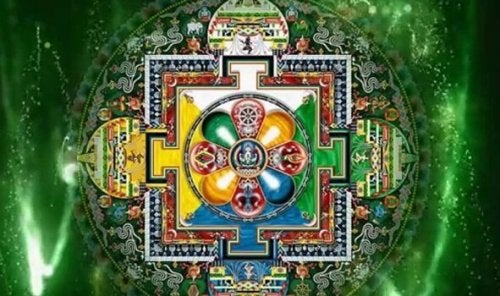 GROUNDED HEART NEW MOON CEREMONY
Use this mantra (or whatever works for you) to get out of your head and into your heart. Then, send this healed energy into the Earth as a gentle nurturing of the seeds of your dreams.
Make this a New Moon to Roar about!
Namaste ~ Mara
Shamanic Goddess Circle 1/15!
#maraclearspring #shamanichealing #soulretrieval #newmoon 
Incredible Art found at Tsem Rinpoche
Shamanic Weather Disclaimer
This is a general interpretation not meant to address individual natal charts, soul journeys or destiny paths. Take what works for you and leave the rest behind! Love!
Ephemeris Times are PST (GMT-0800). Go HERE to convert to your time.