[column width="2/3″ title="Shamanic Weather February 8 2019″ title_type="single" animation="none" implicit="true"]
Time To Say Goodbye
It's time to say goodbye to the haunting wounds of the past. For the last time in our lifetime, Grandmother Moon conjuncts Wounded Healer Chiron in Blissful Dreams Mo' Bedda Than Shattered Reality Pisces during the wee hours of the morning on 2/8/19.
Your dreams and waking thoughts could be thick like old cobwebs, or, could be delightfully empty, like a newly cleaned basement, or a ready-for-a-new-car garage.
We are ending huge transformation cycles and preparing to enter new ones. This is a sacred and exciting time! Say goodbye to addictive behaviors, codependent relationships, chronic self sabotage and misery addiction – if you can…
Let the excitement of the Lunar New Year and powerful Mars/Aquarius Action Mode continue to linger through the weekend. Keep releasing what's blocking. Let the wounds finally close up for good. Invite your dreams to continue to expand, and get for a big perspective shift!
Say goodbye to that familiar ache. Sure, there will always be some sort of thorn in your side – or not! But the old themes are dying. Let 'em.
Make this a shift to ROAR about!
Namaste,
Mara
Aphrodite Love Letters 7 pm Tree of Life in Ocean Beach on Friday, 2-8-19 – the Shamanic Goddess Circle! Women only.
I would love to see you! Schedule your session!
Art: found at Angstoic
#shamanicweather #firststepshamanictraining
**Pacific time PDT (UTC-7). Use this Link
Shamanic Weather Disclaimer
This is a general interpretation not meant to address individual natal charts, soul journeys or destiny paths. Take what works for you and leave the rest behind! Love!
[/column]
[column width="1/3″ last="true" title="TRAINING – EVENTS – HEALING" title_type="single" animation="none" implicit="true"]
APHRODITE LOVE LETTERS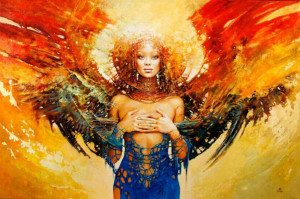 The Shamanic Goddess Circle
Friday, February 8, 2019
The Goddess of Love turns up the heat in your heart for YOU!
SHAMANIC HEALING
Shamanism helps you heal body, mind, heart and soul. Recommended for the soul ready for deep change!
Shamanic Healing ~ Soul Retrieval ~ Counseling
You can schedule your appointment right HERE!
CONTACT:
Mara@MaraClearSpring.com ~ 619-972-2469
EMAIL ANNOUNCEMENTS
Get Mara's Articles, Events and Training info and the Shamanic Weather in your Inbox HERE
[/column]