[column width="2/3″ title="Shamanic Weather February 12, 2019″ title_type="single" animation="none" implicit="true"]
Radical Risks
Skip those radical risks today! War God Mars conjuncts Mad Genius Uranus in Impetuous Aries today. The very air is charged with the massive, masculine drive to hunt, acquire, and dominate. Yet to yield to this impulse could be unwise and even damaging.
BUT I WANT, I WANT, I WANT!
I know, that temptation to throw caution to the wind may plague your very dreams. If you can, wait just a bit, and allow more wisdom to quell the flames of reaction with cool reason. Sometimes your heart detours onto pathways to self-destruction.
I KNOW WHAT I'M DOING!
I'm sure you do, and, what if more info arises that would cause you to shift your commitment or reconsider your decision? Some in-the-moment choices can't be undone.
ARE RADICAL RISKS SO BAD?
When the God of War and King of Anarchy meet it is far too easy to take radical risks that overall do not serve. Mars is pushing his Do It Now agenda during his last days in Me First Aries which means wisdom could be overwritten by reaction and desire.
And Uranus is also ending his stay in Aries. With both planets ready to transit (switch signs) the pressure is amplified.
WHAT DO I DO?
You probably have a very reasonable plan for your current life goals and projects. Stick with them, for now, knowing you can update after giving yourself at least a 24 hour window after impulse strikes!
I CAN DO THAT
It's actually a relief! Redirect any erratic energy back toward what you already had in motion. Yes, there's that intense energy and, yes, it needs to be expressed. It will be! And your plan will evolve. Just let it happen organically and let go of the urge for radical shifts.
Let your deeper inner guidance system prevail, and you'll sail right through this energy storm.
Namaste,
Mara
I would love to see you! Schedule your session! https://maraclearspring.com
Art: Exegesis by Carlos Quevedo
#shamanicweather #firststepshamanictraining
**Pacific time PDT (UTC-7). Use this Link https://www.timeanddate.com/worldclock/converter.html
Shamanic Weather Disclaimer
This is a general interpretation not meant to address individual natal charts, soul journeys or destiny paths. Take what works for you and leave the rest behind! Love!
[/column]
[column width="1/3″ last="true" title="HEALING – EVENTS – TRAINING" title_type="single" animation="none" implicit="true"]
Shamanic Reiki 1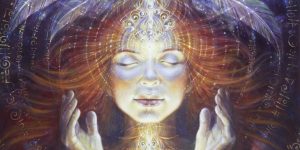 Thursday, February 28, 2019
Everyone can flow Reiki – And it's more fun with Mara and the Tribe!
6:30 pm in La Mesa, CA
More info HERE
SHAMANIC HEALING
Shamanism helps you heal body, mind, heart and soul. Recommended for the soul ready for deep change!
Shamanic Healing ~ Soul Retrieval ~ Counseling
You can schedule your appointment right HERE!
CONTACT:
Mara@MaraClearSpring.com ~ 619-972-2469
EMAIL ANNOUNCEMENTS
Get Mara's Articles, Events and Training info and the Shamanic Weather in your Inbox HERE
[/column]