[column width="2/3″ title="Shamanic Weather March 4 & 5, 2019″ title_type="single" animation="none" implicit="true"]
Mercury Retrograde in Pisces
Mercury Retrograde in Pisces reveals how outward our action (or inaction) reveals our inner depths. This week we initiate a new Retrograde season with the first of three Trident of Truth astrological events within a 24 hour period.
WHAT DOES THAT MEAN?
Trident Point One: Did you ever try to talk underwater? With Messenger Mercury swimming against the "If Fishes Were Wishes" Pisces riptide communications could be muddled to downright confusing.
TOSS ME A LIFE SAVER
Be patient with others, and yourself, in all communications, especially on March 5 and March 28, the beginning and end dates of this retro period. Listen more, talk less. Do your best NOT to take ANYTHING personally, especially with this retrograde beginning conjunct with Wounded Healer Chiron.
OUCH!
Trident Point Two: On March 6, just a few hours after Mercury stations Retrograde, "Break All The Rules" Uranus moves into the sign of "Peaceful Grounding" Taurus the Bull. Get ready for seven years of chasing both daring originality and steady, pleasing comforts.
OK I'LL TRY
Trident Point Three: Great! Use that Can Do energy and pour it into your Pisces New Moon Ceremony for Tuesday, March 6. "Outer You" Sun, "Inner You" Moon, and "Spiritual You" Neptune all meet together in "Sea of Bliss" Pisces. Call upon this tremendous Trident of Truth alliance to engage high vibe possibilities rather than any shadows, addictions, or negative pools of thought.
I WANT MY TRIDENT!
Make one for your Pisces New Moon Ceremony and use it to pierce the fog of any Mercury Retrograde in Pisces illusory conflicts or setbacks.
May this changing energetic tide flow harmoniously for you!
Namaste,
Mara
I would love to see you! Schedule your session! https://maraclearspring.com
Art: creator unknown
#shamanicweather #firststepshamanictraining #mercuryretrograde
**Pacific time PDT (UTC-7). Use this Link https://www.timeanddate.com/worldclock/converter.html
Shamanic Weather Disclaimer
This is a general interpretation not meant to address individual natal charts, soul journeys or destiny paths. Take what works for you and leave the rest behind! Love!
[/column]
[column width="1/3″ last="true" title="HEALING – EVENTS – TRAINING" title_type="single" animation="none" implicit="true"]
Butterfly Goddess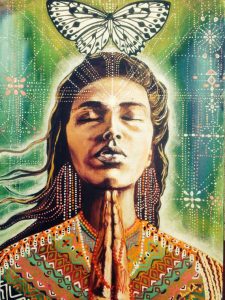 The Shamanic Goddess Circle
It's time to shed your chrysalis and spread your wings!
Friday, March 8 – 7 pm
Sessions with Mara
Shamanic Healing, Soul Retrieval, Training and more.
I'd love to help you on your healing path!
Begin HERE with your First Session.
[/column]